01 September 2020
Yargosstroyexpertiza positive conclusion on the project "Resort house for locomotive crews at Danilov station"
July 28, 2020 JSC Lengiprotrans (part of the 1520 Group of Companies) received a positive conclusion from FAI Yargosstroyexpertiza for the project of JSC Russian Railways "Resort house for locomotive crews at Danilov station". On August, 28th Yargosstroyexpertiza, based on the results of the review, concluded that the estimated cost of the capital construction object was determined reliably. It is planned to start construction on the project of the institute from 2021.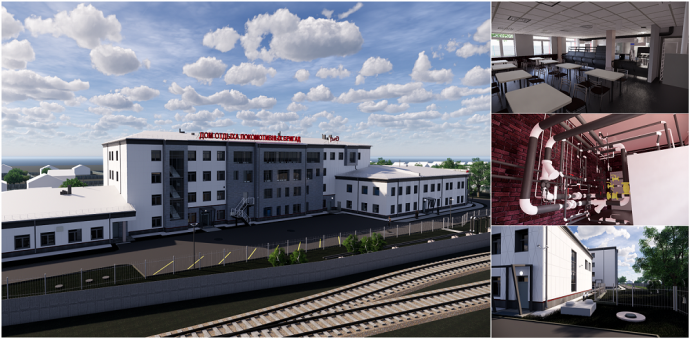 At present, the locomotive crews of the Northern, Moscow and Gorkovskaya traction directorates arriving at the Danilov revolving depot of the Yaroslavl-Glavny operating locomotive depot are resting in two wooden buildings built in 1910–1920s, which do not meet modern requirements. Moreover, the old buildings will not be able to accommodate the additional contingent, which is expected to appear in Danilov due to the growth of freight traffic on the Kuzbass-North-West route.
The designed resort house is a single complex that will provide good rest, rational nutrition and functional rehabilitation of drivers and driver assistants in anticipation of a return trip. It has 120 beds. Double and triple bedrooms are planned as a hotel room. The project provides a dining room for 30 people, a gym, a playground and a sauna. In the same building there will be points of appearance and pre-trip medical examination, a professional selection room, a psychophysiological unloading room and a psychophysiological laboratory, training and technical rooms with computer simulators, a conference hall. The infrastructure of the facility includes a transformer substation, local treatment facilities, a pumping station for domestic wastewater and a site for cars. Completion of construction is scheduled for the second quarter of 2022. The complex will make it possible to organize a continuous technological process, minimizing the movement of locomotive crews.