13 August 2021
Positive opinion on the project of technical re-equipment of the Metallostroy depot for maintenance of the Lastochka electric trains
On August 10, 2021, JSC Lengiprotrans (part of the 1520 Group of Companies) received a FAI Glavgosexpertiza positive opinion on the "Technical re-equipment of the Metallostroy depot for maintenance of the Lastochka electric trains" project.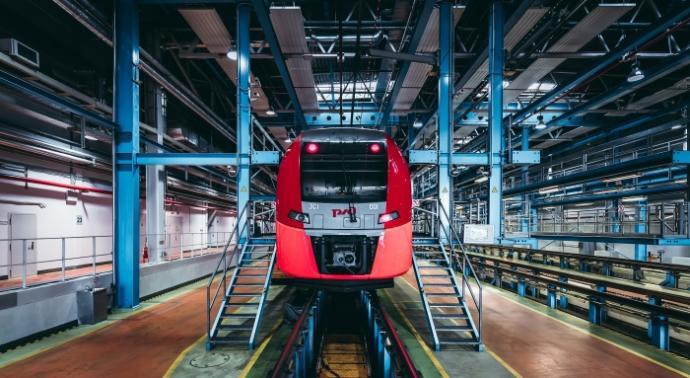 The St. Petersburg-Moskovskoye motor carriage depot is located in the village of Metallostroy in the south of St. Petersburg. It was built in 2000 according to the Lengiprotrans project. In 2007–2009, the institute designed the reconstruction of the depot for high-speed trains Sapsan maintenance service. Today, the depot carries out almost all types of maintenance and repair of the Sapsan and Lastochka trains, as well as maintenance of the suburban electric train rolling stock of the ED and ET series.
The reconstructed buildings according to the title includes the main production building and the auxiliary building. Their reconstruction is due to the gradual replacement of the existing rolling stock of the ET2M and ED4M series with high-speed trains Lastochka, as well as further promising growth of the fleet of high-speed trains Sapsan.
The project envisages two stages. The first stage includes the expansion of the auxiliary building for Sapsan trains maintenance, including the equipping of new areas with equipment for performing all routine outfitting work, work on thawing ice and snow on wagons in winter, as well as the construction of a new boiler room for the needs of the building and railway track for the possibility of trains entering the projected extension of the building.
The second stage provides for the reconstruction of the existing workshop with the organization of two repair stations for Lastochka trains maintenance service, two repair stations for Sapsan trains maintenance service, and the construction of a new cold warehouse for storing large-sized components.
Project management was carried out by the Chief project engineer of the Industrial and Civil Buildings and Structures Department Danil Voronin. The technical customer and developer is Russian Railways.