12 August 2021
Positive conclusion on the first stage of the project for the development of the railway approaches to MSCC Bronka
On August 09, 2021 JSC Lengiprotrans (part of the 1520 Group of Companies) received a FAI Glavgosexpertiza positive opinion for the project «Development of the railway approaches to MSCC Bronka. Reconstruction of infrastructure at the Rybatskoye — Predportovaya — Ligovo — Bronka section of the Oktyabrskaya railway. First stage».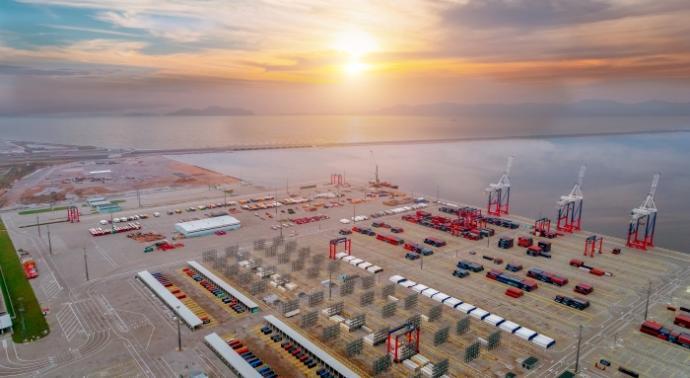 Multipurpose Sea Cargo Complex (MSCC) Bronka is located on the coast of the Gulf of Finland to the South of Kronstadt in the zone of a protective dam. MSCC Bronka is of strategic importance for the development of transport and port infrastructure in St. Petersburg and Russia as a whole. The port is integrated into the logistics system of the St. Petersburg transport hub and is designed to handle containerized and rolling cargo.
The access road to the port adjoins the Bronka station of the Oktyabrskaya railway. In addition, the Cargo Complex is connected to the network of federal highways, including a two-way road junction connecting the port with the ring road of St. Petersburg.
The first stage of the project for the development of railway approaches to MSCC Bronka for a prospective cargo turnover of up to 3.8 million tons per year includes following activities:
reconstruction of Bronka station with lengthening of the existing receiving-and-departure tracks and laying of four additional useful lengths of 1050 m. All tracks are equipped with a contact network, new electrical interlocking of switches and signals is being introduced;
reconstruction of the Ligovo station for the possibility of crossing freight trains with a length of 1050 m;
reconstruction of the Predportovaya — Ligovo section with smoothing of the gradient, electrification and automatic blocking equipment;
electrification of the two tracks at Srednerogatskaya station;
noise protection measures.

The design management was carried out by the Chief engineer of the project of the Nodes and Stations Department Sergey Vladimirovich Kulkov. The customer of the project is Phoenix LLC. Financing of the reconstruction is planned to be carried out with the involvement of investment funds of the customer and JSC Russian Railways.