11 March 2021
Positive conclusion of the FAI Glavgosexpertiza on the third stage of the construction project of the Luzhskaya-General station of the Ust-Luga railway hub
March 03, 2021 JSC Lengiprotrans (part of the 1520 Group of Companies) received a positive opinion from the FAI Glavgosexpertiza for the complex reconstruction of the Mga — Gatchina — Weimarn — Ivangorod section and railway approaches to ports on the southern coast of the Gulf of Finland. Construction of the Luzhskaya-Generalnaya station at the new site. 3rd stage of construction".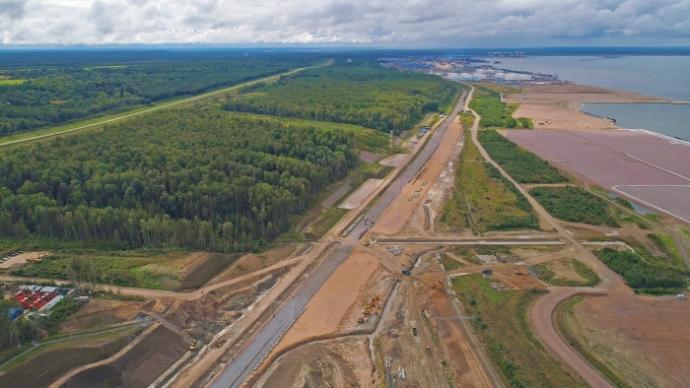 Photo: Construction of the Luzhskaya-Generalnaya station (source: JSC Lengiprotrans)
The Luzhskaya-Generalnaya railway station is one of the five cargo port stations of the Ust-Luga railway junction, through which goods are delivered by rail to the Kmorskaya commercial port of Ust- Meadows.
The presented design documentation provides for the construction of the General Station Luzhskaya park in order to organize servicing of the terminals of sea transshipment complexes in the northern part of the port of Ust-Luga. The third stage includes the construction at the Luzhskaya-Generalnaya station of four receiving and departure tracks with a useful length of at least 1050 m for organizing maintenance of non-public tracks at the terminals of Eurochem Terminal Ust-Luga LLC and UTT Ust-Luga. The cargo turnover of the terminal of Eurochem Terminal Ust-Luga, LLC at the station Luzhskaya-General by 2030 (full development) will reach 6.7 million tons per year. Eurochem Terminal Ust-Luga plans to export and import chemical and mineral fertilizers. Freight turnover of the non-public track of UTT Ust-Luga, related to the station Luzhskaya-General, will amount to 24.26 million tons per year. Commissioning is scheduled for development stages in 2023–2026.
The project also provides for electrification, equipping with arrows and signals of the newly laid track development and their inclusion in the existing microprocessor-based EC of the station.
The design management was carried out by the chief engineer of the project of the department of nodes and stations Sergey Viktorovich Malofeev. The developer and source of funding is Russian Railways.