04 June 2020
The bridge will be replaced by a bypass — Gudok article
A new road will be completed to resume railway communication with Murmansk
June 3, Oleg Belozerov, CEO and Chairman of the Board of Russian Railways, Vladimir Tokarev, Deputy Minister of Transport and Head of Roszheldor, and Andrei Chibis, Governor of the Murmansk Region, discussed the possibility of an early restoration of traffic to Murmansk after the collapse of the bridge across the Kola River and the prospects for the development of the Murmansk transport hub. It was decided to quickly complete the unfinished section of the Murmansk transport hub development project. It is planned that the trains on the new route will go in 20 days.
The bridge, built in 1930, collapsed on June 1 due to heavy flooding. The railway workers noticed the erosion of the supports in a timely manner and stopped the movement, thanks to which no one was injured during the collapse.
The designers of JSC Lengiprotrans (part of the 1520 Group of Companies) are already working on site and drawing up a plan to dismantle the damaged bridge, and also designing a new artificial structure. It is assumed that the new bridge superstructure will have a length of 110 m — from coast to coast in order to exclude the impact of water on the supports. After conducting soil studies, a decision will be made on what foundation will be laid in the base of the bridge, as well as the exact timing of construction will be determined.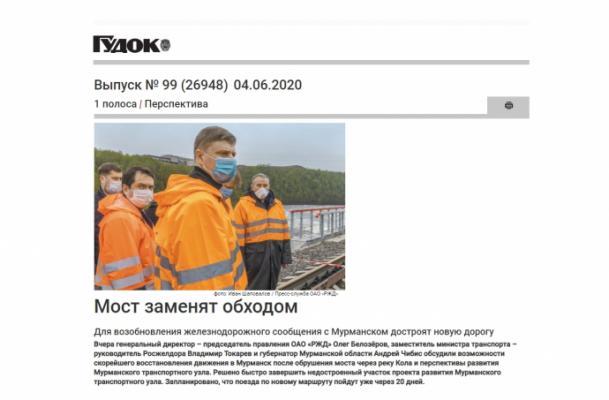 As Dmitry Golubovsky, General Director of JSC Lengiprotrans, explained to Gudok, in order to quickly restore the movement of trains from the center of the country to Murmansk, it is necessary to lay a connecting line from the Vykhodnoy station, which is located in the direction of Murmansk even before the damaged bridge, to the old section the Murmansk — Murmashi — Lavna railway, which leads from the city across the Kola River to the western shore of the Kola Bay. The closest point to Murmansk on this road is the Blockpost 9th km, through which you can get to the city through another bridge.
"This section of 5.7 km is planned to be built according to the project for the development of the Murmansk transport hub to increase traffic to Lavna, and it already has a project from the Vyhodnoy station to the Blockpost 9th km, and the constraction of this section is conducted by Yamaltransstroy," — explained Dmitry Golubovsky.
The article can be found by the link .