17 November 2017
Conference "Transport infrastructure of St. Petersburg and the Leningrad region"
On November 15, the IV International Annual Conference "Transport Infrastructure of St. Petersburg and the Leningrad Region" was held. It was attended by Deputy Minister of Transport of the Russian Federation, heads of the Government of St. Petersburg and the Government of the Leningrad Region, profile committees, representatives of federal and regional authorities, business community and industry experts.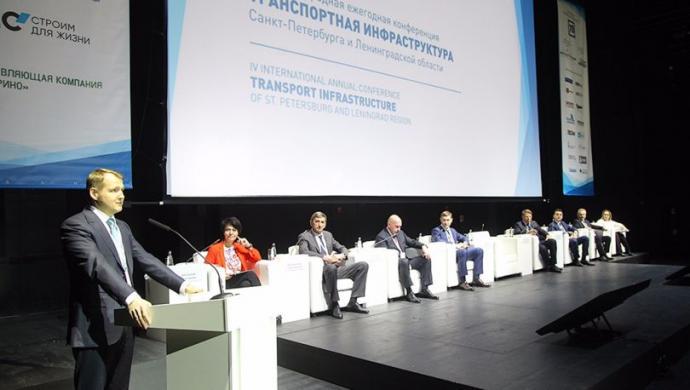 PJSC "Lengiprotrans" (part of the "Group of Companies" 1520 ") was represented by Deputy Chief Engineer - Head of the Department of Knots and Stations Sergei Olegovich Ivanov.
Speaking with a salutatory word at the plenary session "Transport Systems of the Future", Nikolai Asaul noted that the importance of St. Petersburg as an international and regional transport hub is very great. In early 2018, the first meeting of the Joint Commission of the SCO member states and the Ministry of Transport of Russia is planned in St. Petersburg. One of the directions of the Commission's work is the creation of favorable conditions for international road transport and new automobile routes.
Director of ANO "Directorate for the development of the transport system of St. Petersburg and the Leningrad region" Kirill Polyakov told about the work on the creation of the Integrated transport scheme of the two regions. Mikhail Moskvin, Deputy Chairman of the Government of the Leningrad Region, noted that the region has practically begun to implement the scheme in the framework of individual projects.
The main topic of the plenary meeting was the transport systems of the future. According to Ekaterina Bryazgina, Deputy General Director of JSC NIIAT, the main trends in the further development of transport will be informatization, services for informing passengers in real time, the introduction of a single ticket for various modes of transport with the possibility of acquiring it via the Internet, environmental transport, the elimination of duplicate routes in the transport network, and the development of new approaches to the mobility of the population.