24 September 2019
Results of the exhibition of the Directorate of Railway Stations "Stations of Russia - Past, Present, Future"
From 17 to 24 September, an exhibition on projects for the reconstruction of railway stations "Russian Stations - Past, Present, Future" was held in the comfort hall of the Kazansky railway station in Moscow, timed to coincide with the 16th anniversary of the establishment of JSC Russian Railways (RZD). JSC Lengiprotrans (part of the 1520 Group of Companies) was represented at the event by the head of the department of industrial and civil buildings and structures, Vitaly Nikolaevich Lopatin, and the chief architect of the project, Ksenia Aleksandrovna Balykina. _one_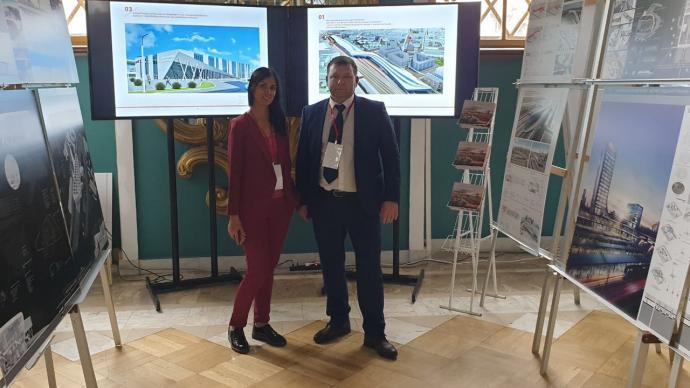 Head of the department of industrial and civil buildings and structures V.N. Lopatin and chief architect of the project K.A. Balykina
The main participants of the exhibition were representatives of the central and regional Directorates of railway stations of Russian Railways, as well as design institutes and architectural bureaus. A welcoming speech in honor of the opening of the first exhibition of stations was given to Georgy Albertovich Gevorkyan, Head of the Directorate, who spoke about the problems and tasks of designing objects included in the investment program of Russian Railways, about the planned large-scale modernization of stations and adjacent territories and about the opportunities that the embodied modernization to life.
The first two days of the exhibition were devoted to the reports of the participants and discussions organized within the framework of round tables, where such topics as new approaches to design, problems and features of designing stations in large cities were raised, and various concepts of reconstruction were discussed. Also new technologies of design and construction were presented, namely: mathematical modeling, modular construction and new possibilities of laser scanning.
Representatives of Lengiprotrans in their report highlighted the design features of the reconstruction of large station complexes using the example of Moscow and Leningradsky railway stations, talked about common design problems and options for their solution depending on different scenarios of station reconstruction.
During the event, exposition materials were presented: implemented and promising projects of station complexes. The main goal of the exhibition is to assess the potential of design organizations and develop proposals to improve the efficiency of Russian Railways programs based on an analysis of the materials presented.
Of the projects shown at the exposition, the staff of the institute paid special attention to the work of students of architectural universities. Without limiting their imagination, the students presented extraordinary solutions, many of which can be adopted by experienced designers.
"Participation in such exhibitions provides an opportunity to exchange experience in design, an opportunity to get inspired and recharge with creative energy," Ksenia Alexandrovna shared her impressions after the event.