The history of the St. Petersburg railway node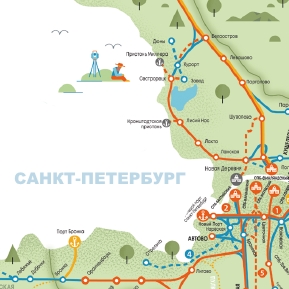 Since 1935, JSC Lengiprotrans is one of the leading organizations working on the transport infrastructure development projects in St. Petersburg and Leningrad Region. On May 13, 2020 Lengiprotrans celebrated 85th anniversary of its foundation. Summing up the jubilee year, we decided to tell about the history of railway transport in the native city of Lengiprotrans and what the institute has done for its development.
Find out about the begining and development of the St. Petersburg railway node — one of the largest transport centers in Russia.
Did you scan QR code in the PROEKT newspaper? Watch the video in augmented reality!
1. Install and run Artivive app ( Google Play / App Store ).
2. Point your phone camera at the infographic map.
3. Enjoy watching!
Don't have newspaper or your phone does not support the augmented reality function:
History of the St. Petersburg railway node.