17 December 2020
Positive conclusion on the project for the construction of a railway bridge across the River Kola the Murmansk Region
On December 1, 2020, Lengiprotrans JSC (part of the 1520 Group of Companies) received positive conclusion of FAI Glavgosexpertiza on the project for the construction of a railway bridge across the Severnaya Kola river at 1436 km of the Vykhodnoy — Kola section in the Murmansk Region. The single-track section provides the passage of passenger and freight trains to Murmansk.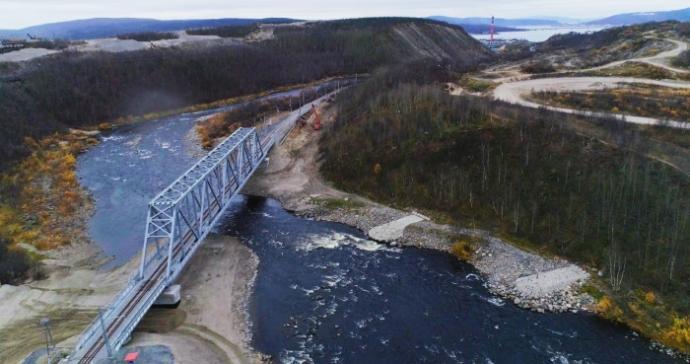 Photo: Railway bridge across the River Kola (source: JSC Lengiprotrans)
Design and survey work on the construction of the new railway bridge began immediately after the collapse of the span of the old structure on June 1, 2020 under the influence of the abundant flood waters of the Kola River.
The design documentation provides for the construction of a bridge of three spans: the length of the outer spans is 18.2 m, between them is a metal truss 111.2 m long. The spans are installed on 4 reinforced concrete coastal supports on the foundations of 34 bored piles. The total length of the bridge is 158.2 m.
The bridge is unique from an engineering point of view — there are no intermediate supports in the river bed, which has a positive effect on the environment, without creating obstacles to fish migration. The project also includes measures for dismantling the structures of the destroyed bridge, removing utility lines from the construction zone and rebuilding the approaches to the new bridge, taking into account the prospect of building a second track on the Vykhodnoy — Kola section.
The design management was carried out by the chief engineer of the project of the bridges department Evgeny Pavlovich Kondratyev. The developer and source of financing is JSC Russian Railways.
Research and design work was completed in a short time, which made it possible to quickly restore the connection between Murmansk and the center of the country.