27 January 2021
Celebrations dedicated to the 77th anniversary of lifting the siege of Leningrad
On January 27, 2021, Lengiprotrans JSC (part of the 1520 Group of Companies) held celebrations dedicated to the 77th anniversary of the complete liberation of Leningrad from the Nazi.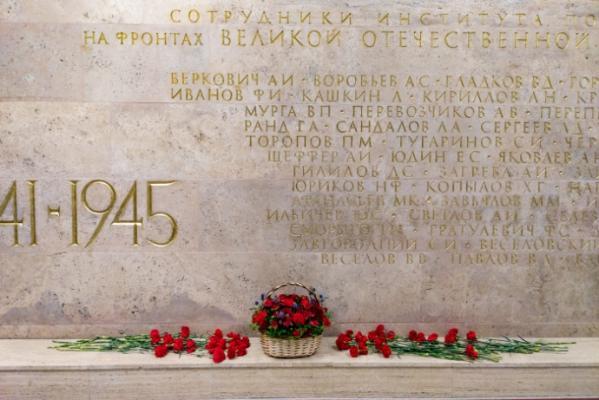 Dmitry Viktorovich Golubovskiy, General Director of Lengiprotrans JSC, Aleksandra Aleksandrovna Nikitina, Deputy Chairperson of the Local Committee of the Primary Trade Union Organization of workers, and Yulia Vladimirovna Magalyas, Chairperson of the Workers' Collective Council, spent a minute of silence at the Wall of Memory and laid flowers.
Dmitry Viktorovich said in his address: "Lengiprotrans made its contribution to the defense of the city: many engineers went to the front and defended Leningrad. Participated in the creation of structures on the Luga border, worked on the creation of the "Road of Life" (railway Voybokalo - Kobona - Kos) and "Road of Victory" (railway line Polyana - Shlisselburg). With all my heart I wish all the blockaders good health, longevity, prosperity, peace and happiness! May the history of the blockade be preserved and live in our hearts!"
Currently, 74 residents of besieged Leningrad are registered in the Lengiprotrans Council of Veterans. Among them is Alexander Yakovlevich Mazo, head of the museum of the institute. Alexandra Aleksandrovna Nikitina read out the welcoming speech on his behalf. Alexander Yakovlevich congratulated his colleagues on the Day of the complete lifting of the blockade and talked about the "Collection of poetry about the Leningrad blockade", which was published by Lengiprotrans for the holiday. In the prepared "Collection of poetry" Alexander Yakovlevich tried to convey the atmosphere of the besieged city and the fate of its courageous inhabitants.
Some of the works of the collection were read by the staff of the Institute. Audio recordings and poetry collection can be found on the Lengiprotrans website in the section "Special Projects" .
We sincerely congratulate everyone on the great common holiday, we wish you health, longevity, mutual understanding and prosperity!