29 November 2017
New objects of Ust-Luga railway junction commissioned
Yesterday, November 28, 2017, the opening of a new service building for the operational locomotive depot Velikiye Luki and rest houses for locomotive crews at the Luzhskaya-Sortirovochnaya station of the Oktyabrskaya Railway was opened.
Representatives of the central administration of JSCo «Russian Railways» and the management of the Oktyabrskaya Railway visited the solemn events dedicated to the commissioning of new facilities in the course of the day. The project of reconstruction of the operational building and construction of the rest house was developed by the department of industrial and civil buildings and structures of PJSC "Lengiprotrans" (included in the Group of Companies 1520) under the supervision of the project's chief engineer Danil A. Voronin. After the examination of the comfortable premises of the new holiday home as part of the delegation, Danil Alexandrovich took part in a working meeting on the progress of the project "Construction of PTVL at the station. Luga-sorting ". Speech D.A. Voronin was devoted to new technological solutions used at the locomotive maintenance center under construction (Ptol).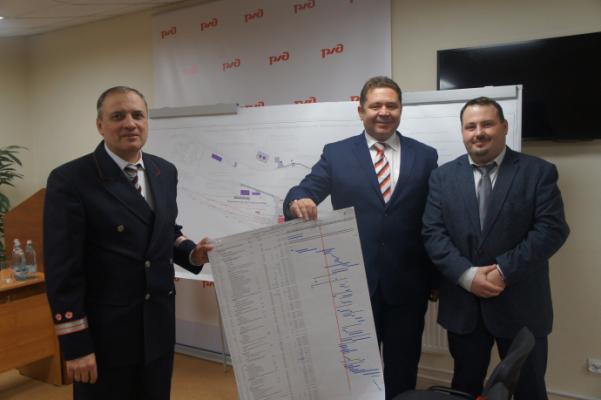 The report was heard in the presence of the members of the high presidium: Vice President of JSCo Russian Railways O.S. Valinsky, acting. Head of the October Railway MO. Glazkova, the head of the October Directorate of thrust A.V. Lebedev, deputy head of the Directorate of thrust, AM. Lubyagov. The meeting was also attended by the manager of the SMT-1 AA. Davydov, head of the DKRS, D.V. Bogdanov, deputy head of the October Directorate of thrust, VS. Tkachev and others.
Since 2011, PJSC Lengiprotrans has been carrying out a complex of engineering surveys and design works of all stages for the development of the general infrastructure infrastructure of the Ust-Luga railway junction in the Mga-Gatchina-Weimarn-Ivangorod section. The site is one of the most important railway transport objects in the Leningrad Region. The purpose of its development is to ensure the delivery of cargo by rail to the sea trading port of Ust-Luga on the southern shore of the Gulf of Finland in the Luga Bay.
In 2016, a number of key facilities of the Ust-Luga node, built on the projects of PJSC "Lengiprotrans", were commissioned. Today the railway junction is a pre-sorting sorting station Luzhskaya-Sortirovochnaya and port cargo stations Luzhskaya-Severnaya, Luzhskaya-Yuzhnaya, Luga-Neftyanaya, as well as an industrial station for liquefied petroleum gas (Gazovaya), infrastructure and rolling stock base. The Institute carried out a full range of design and survey works on the facility with obtaining initial permissive documentation and implementation of author's supervision.