22 July 2020
"The bridge is gaining support" - article in the newspaper "Gudok"
The preliminary stage of construction of a new bridge across the Severnaya Kola River in the Murmansk region has been completed to replace the old bridge that collapsed on June 1, built at the beginning of the last century. On July 20, the assembly of three superstructures with a total length of almost 150 m was completed. Three days earlier, the last of the 34 piles envisaged by the project was concreted. _one_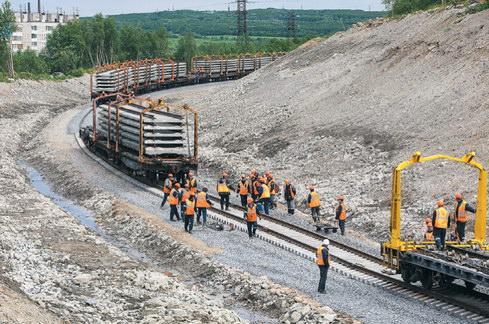 Photo: Victor Kazarin
The bridge will have three spans (the previous one had four spans). The length of the outer spans is 18.2 m, between them there is a metal truss with a length of 111.3 m. There are four supports in total - two of them in the river bed near the shore, supporting the main span. Vadim Veselov, head of the bridges department of Lengiprotrans JSC, general design institute, said that the impact of water on the supports will be minimal.
"Concreting of the piles has ended a laborious, long and unpredictable stage of the bridge construction, because surprises are often found that slow down the process and create additional work," said Alexei Mukhin, Deputy Chief Engineer for the Murmansk Region of the Oktyabrskaya Railway.
The drilling depth exceeded 20 m. Two weeks ago, the builders stumbled upon the rails laid here, according to experts, in 1915. Extra time was required to extract them from the ground - dismantling the rarity lasted 127 hours. _one_
The supports farther from the riverbed will stand on four piles, and those closer to the riverbed - by 13. "It was important for bridge builders to get out of drilling as soon as possible," says the deputy chief engineer. - With the completion of this laborious operation, it became possible to more clearly predict the progress of construction. Further work - reinforcement and concreting - will take place on the ground. " _one_
According to Alexei Mukhin, grillages (the upper part of the pile foundation that distributes the load from the load-bearing elements) are now being set up on three of the four supports, and the support body is already being made on the first - its middle part, made of concrete or reinforced concrete. The construction of the bridge is scheduled for completion in October.
David Genkin "Beep"
Issue No. 132 (26981) 07/22/2020

The text of the article is available on the website . _one_