24 August 2021
The stations will add power — an article in the newspaper Gudok
Last Wednesday, August 18, specialists of the Institute of JSC Lengiprotrans completed work on updating the general scheme for the development of the Volkhovstroyevsky railway hub, which was carried out based on the forecast of growth in freight traffic for the period up to 2030.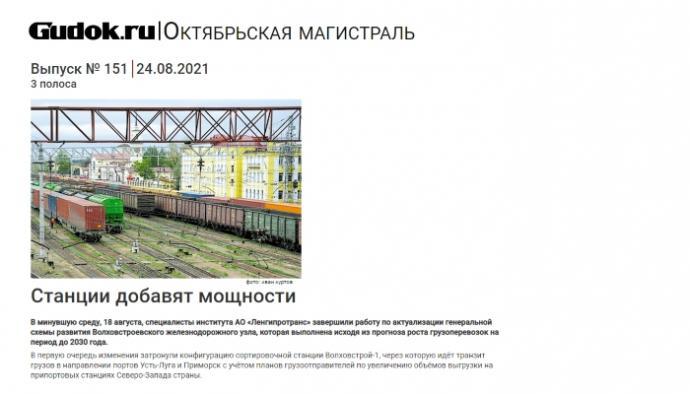 First of all, the changes affected the configuration of the Volkhovstroy-1 marshalling yard, through which goods transit in the direction of the ports of Ust-Luga and Primorsk, taking into account the plans of shippers to increase unloading volumes at the port stations of the North-West of the country.
To increase the capacity of Volkhovstroy-1 station, the designers proposed, in particular, to lengthen all the tracks of the sorting and dispatch yard from 850 m to 1050 m, thus, the length of the train will increase from the current 52 conventional cars to 71, which will significantly increase the weight of the train — in depending on the types of cargo up to 26%. Now there are 8 tracks in the receiving yard, 25 tracks in the sorting yard, and 10 more — in the receiving-and-departure yard. It was also proposed to build three more tracks with a length of at least 1500 m for the same number of conventional wagons — up to 71, to rebuild the base of fire and recovery trains, instead of a shunting tower between track No. 10 of the receiving-departure park and track No. 1 of the marshalling-dispatch station, establish a signaling post. It is also required to replace the outdated equipment of the automatic interlocking station, and to build a new electric power station in the Novo-Oktyabrsky park of the station.
As a result, Volkhovstroy-1 station will be able to receive long-train rolling stock composition, perform a greater volume of shunting and dismantling of trains, ensuring the passage of growing traffic volumes to ports. Now the marshalling complex of the station manages to pass up to 86 pairs of trains per day, and by 2030 — over 100 pairs. "Already a number of consignees in the ports of Ust-Luga and Primorsk declare additional volumes of cargo," says the acting director. Oleg Titov, chief engineer of the October traffic control directorate. "For example, the Primorsky universal transshipment complex announced additional cargo volumes of 100 million tons, the Ultramar terminal — 25 million tons."
It is assumed that the updated scheme for the development of the Volkhovstroy hub will be approved by the end of September.
Oksana Abramova Gudok | October highway
Issue No. 151 dated 08.24.2021
Full text of the article can be found here.