PJSC Lengiprotrans performed a large amount of work on the transport development of ports on the Gulf of Finland.
Works on the organization of the high-speed railway line St. Petersburg — Helsinki were completed. The company participates in the HSR Moscow — Kazan — Yekaterinburg project.
1970-1979

Development of new regions
USSR Republics and Syria

1980-1989
1990-1999

Transition period
2010–2019
PRESENT DAYS
Director General of Lengiprotrans in 2008–2012 was V.G. Rybkin. V.M. Chernakov was Director General again from 2012 through 2015.
D.V. Golubovsky became Director General in 2015. This was when the corporate name changed again following the change in the legal status: the institute became the Public Joint-Stock Company Lengiprotrans.

The company has completed a large amount of work over the last few years such as:

• comprehensive reconstruction of the Mga — Gatchina — Veimarn — Ivangorod section and the railway approaches to the ports on the southern coast of the Gulf of Finland;
• construction of the flying junction at the intersection of Pulkovskoye Highway with Dunaisky Prospect in Saint Petersburg;
• priority actions for development of the Savelovo — Sonkovo — Mga of the Oktyabrskaya Railway;
• comprehensive reconstruction of section: Kotelnikovo — Tikhoretskaya — Korenovsk — Timashevskaya — Krymskaya with a by-pass of the Krasnodar Hub of the North Caucasus Railway;
• implementation of a dry-cargo zone at the Taman Seaport.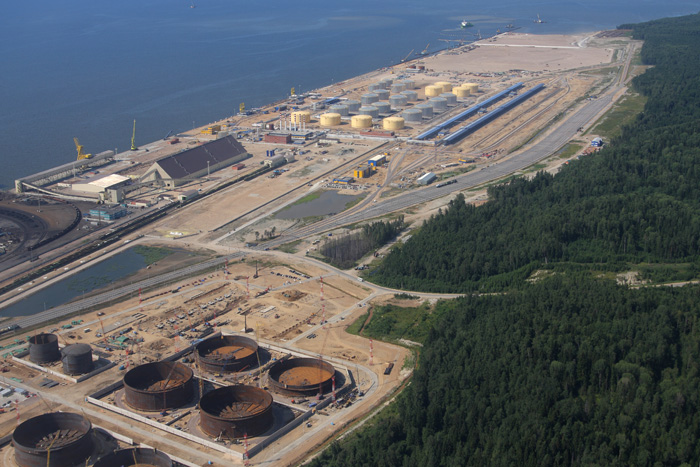 Complex for transshipping liquefied hydrocarbon gases in the Ust-Luga Sea Commercial Port with connection to the Luzhskaya station